[one-half-first]
Brian Trachsel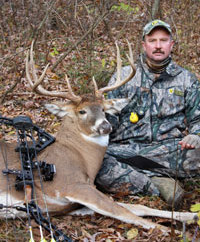 Brian Trachsel is president and co-owner of The ScrapeFixs.
Over the past 39 years, Brian has fostered his passion for big and small game hunting with a true passion for bow hunting. Trachsel's scientific-methodical approach, paired with his knowledge and attention to detail, led him to form a lasting partnership with The ScrapeFixs' co-owner, David Healy. This experienced duo continues to grow their understanding of the field while on the quest for giant elk and whitetails.
Aside from his adventures with The ScrapeFixs, Brian is a co-owner of Trachsel Dental Studio, Inc., a 50-year family owned full-service dental lab. He is a committed hockey dad, fisherman, videographer, and golfer.
Brian lives with his family in Rochester, MN.
[/one-half-first][one-half]
David Healy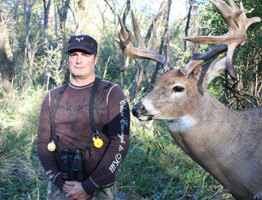 Healy, a serious bow hunter for the past 25 years, is vice-president and co-owner of The ScrapeFixs. He is a sports and outdoor enthusiast with a particular love for bow hunting, fly fishing, videography and hockey. Healy is also a principle in Healy-Holm Promotions, a successful promotional merchandise firm based in Minnesota with a roster of blue chip clients.
In his work providing promotional merchandise to corporations for their loyalty, recognition, and branding programs, Healy focused on custom materials for his clients. This knowledge was clearly on his mind when he and friend Brian Trachsel, ScrapeFix's co-owner, designed a better product to determine wind conditions for hunting big game. Healy and Trachsel were not satisfied with the current items on the market. They wanted a product that clipped onto your binocular or belt loop so you would not have to dig into your pockets and a container that would not clog or harden in cold weather. A product was born.
When Scent Blocker asked Healy and Trachsel to come up with a scented wind checker to add to their line they knew they had their work cut out for them. After 3 years of field testing to prove the effectiveness, they knew these products were special.
Healy continues to enjoy his pursuit of the ultimate attractant, videography and his work with Healy-Holm Promotions.
Healy lives with his family in Orono, MN.[/one-half]